Health & Safety
First Aid and CPR Training for Adult Leaders
Date: Saturday, December 6th; 9:00 AM to 5:00 PM
(Registration 8:30 to 8:45 AM). Bring a bag lunch.

Course will be split First Aid in the morning and CPR in the afternoon.
Where: Darien Scout Cabin, 140 West Ave, Darien
Cost: $60.00, Questions: Steve Coe 203-340-4911 or Steve@EmergencyResponseTrainingCenter.com.

Wilderness First Aid Training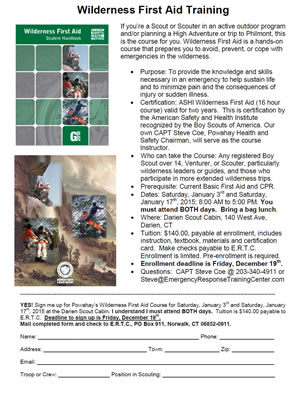 If you're a Scout or Scouter in an active outdoor program and/or planning a High Adventure or trip to Philmont, this is the course for you. Wilderness First Aid is a hands-on course that prepares you to avoid, prevent, or cope with emergencies in the wilderness.
Dates: Saturday, January 3rd and Saturday, January 17th, 2015; 8:00 AM to 5:00 PM. You must attend BOTH days.

, Connecticut Yankee Council, Boy Scouts of America.
Website questions: webmaster@powahay.com