Program Activities
Powahay Webelos Activity Badge College – November 15

A big thanks to Troop 19 Norwalk for hosting and to Troop 9 Stamford and Troop 53 Darien for providing instructors. We're expecting over 240 Webelos (in and out of our district) with 10 Powahay Cub Scout Packs represented.

Please email me (John Hanks, District Activity Chair) if you have Scouts or adults that would like to help. We're not looking for your entire troop but a few older Scouts. The Webelos College location is Rogers International School, 202, Blachley Rd., Stamford (near Chelsea Piers).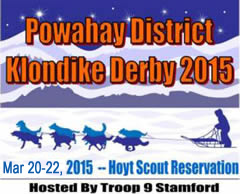 Klondike Derby – January 23 - 25, 2015 – See PDF: We're delighted to announce that Troop 9 Stamford will be hosting Klondike 2015. Scoutmasters and Senior Patrol Leaders are invited to the Dec. 3 Roundtable for a planning session. Save the date and see attached for basic information and reservation form.

, Connecticut Yankee Council, Boy Scouts of America.
Website questions: webmaster@powahay.com