Powahay District, Boy Scouts of America. Serving Darien, New Canaan, Norwalk, Wilton, and Stamford, Connecticut
EVENTS
Save the Date:
Powahay District - Boy Scout Fall Camporee - Klondike Games
October 23-25, 2015
Hoyt Scout Reservation
Hosted by Troop 9 Stamford
The cancelled Klondike Derby theme is being "refreshed" for the Fall Camporee. This is a Senior Patrol Leader led Camporee. Troop 9 Greenbar will be coordinating program planning through the SPL's of participating Troops. Klondike Games are based off the Hunger Games books and movies. Exciting Stations are being planned.


JOIN SCOUTING
JOINING A BOY SCOUT TROOP
What every Parent should know about Boy Scouting, The Webelos to Boy Scout Transition.
This year your son will be making a decision that will have an impact on his Scouting career: the choice of which Boy Scout Troop he will join. We are providing this guide to help assist you as he makes this important decision.
- Powahay Webelos to Scout Committee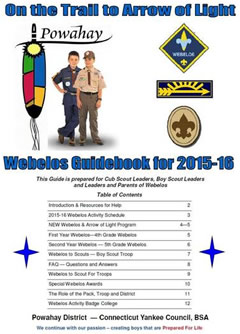 , Connecticut Yankee Council, Boy Scouts of America.
Website questions: webmaster@powahay.com